Massage Therapy in St. Albert
Defined as the manipulation of the body's soft tissues, massage therapy is a great way to enhance any chiropractic, physical therapy, or acupuncture treatment. It is also a great therapeutic solution to relieve chronic muscle tension. Massage therapy has been used to treat anxiety in people suffering from chronic illnesses like cancer and to reduce the physiological effects of stress, fatigue, sleep disorders, high blood pressure, diabetes, depression, and lower back pain.
Massage therapy works by stimulating nerve fibres in your muscular, nervous, and circulatory systems to produce a therapeutic effect on your body. The goal is to relax your muscle tissues so that your nerves will return to an uncompressed state and continue their normal mode of operation without being inhibited by pain.
Massage Town is located on the second level of the Health by Hamdon clinic. As we grew to offer more and more massage treatments, Dr. Hamdon decided that it was time to create a branch specifically to service our massage clients. Thus, Massage Town was born to provide our clients with a specific and individualized healing experience with its own name and brand.
Your Tailored Massage in St. Albert
Affiliated with Health By Hamdon, Massage Town offers a wide range of St. Albert massage services from deep tissue massages, to prenatal and hot stone massages. Regardless of whether you want to receive further treatment to better the progress of your chronic pain following physiotherapy or chiropractic appointments, or want to relieve the tension deeply set into your muscles, our team of massage therapists have the hands to help you.
We aim to give you a personalized treatment and give you one of the best massage experiences you can find in St. Albert.
Affordable, Effective, and Invigorating Massages
With prices ranging from $55 to $135, you can be sure that even if your insurance doesn't cover the total cost of your treatment you won't be breaking the bank. Our massage therapists are skilled, experienced and certified to deliver a number of treatments to ensure that you get the care you need. From treating your musculoskeletal pains to delivering sports massages, you can be sure that you will be well taken care of here at our St Albert health clinic.
Customized Treatment Plans
During your consultation with our massage therapists, we will discuss the best way to treat the pain that you are experiencing. We strive to look out for your continued wellbeing and health, so we have structured our massage treatments to cater to your needs in the interest of relieving your chronic pain, promoting healing, and giving relief. Our massage therapists have a wide range of therapy treatments to offer for your massage appointment, including deep tissue, sports-specific, relaxation, hot stone, prenatal, and therapeutic massages. If you're not sure where to start, consult with our massage specialists to find a treatment that is right for you.
Address Your Pain with Our Therapeutic Services From Hot Stone Massage to Deep Tissue Massages
If you're suffering from chronic back pain, tight traps, or migraines, don't let it get worse. With our numerous massage therapy services, our massage therapists and practitioners will help alleviate the chronic pain that's been plaguing you. Whether you're interested in our hot stone massage services or our deep tissue massages, our treatments can help:
Increase circulation, energy, and alertness
Alleviate chronic pain
Reduce stress
Reduce inflammation
Break up scar tissue to increase speed up healing
Improve your immune system and flush out toxins
Our St. Albert health clinic is always accepting new clients, please call or book online to see one of our expert massage therapists today.
What To Expect During Your Massage Therapy Sessions
After you've come in for a consultation with one of our experienced massage practitioners where we have discussed your specific needs, we will review your medical history and determine the best treatment for you. As the reasons why massage therapy was recommended differs from patient to patient, the frequency of your treatment appointments will be personalized to your individual needs.
At Health by Hamdon's Massage Town, we take extra steps in ensuring that your massage session is as comfortable as possible. Communication between our massage practitioners and patients is crucial to guarantee that you get the best results. Our medical clinic staff will check in throughout your appointment to ask if you feel any discomfort during the massage experience.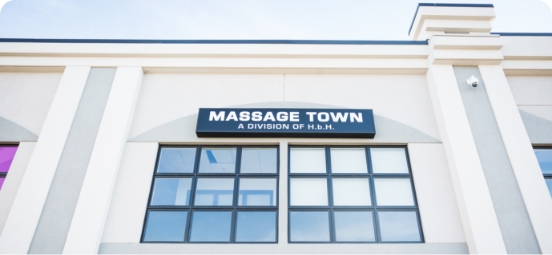 Massage Town
Call us to Book an Appointment
780-459-9600

healthbyhamdon@gmail.com
Frequently Asked Questions

Deep Tissue
A firm, continuous technique to reach deep layers of muscles and fascia. Helps increase mobility and decrease pain.

Sports Massage
Helps to recover from injury, improve performance and prevent further injury. Promotes muscle balance and tissue repair.

Relaxation Massage
A light touch massage that can include essential oils and cupping. To promote lower anxiety and stress levels.

Hot Stone
Smooth heated stones are used to relax tight muscles. Very relaxing and a great option for pain sensitive people.
Prenatal
Relaxes tense muscles, eases sore spots, and improves circulation and mobility. Massage is done on a specialized ergonomic bed to allow patient to lay on her tummy.

Therapeutic
The mobilization of soft tissue to restore biomechanical and functional use. Trigger points are also alleviated with type of massage.
Book An Appointment
Find out what your body can do with a professional on your side!